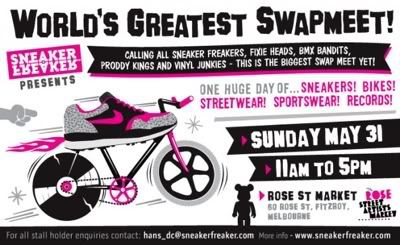 Come and check out other peoples trash and treasures from Melbourne's Sneaker Freakers, Fixie Heads, BMX Bandits, Proddy Kings and Vinyl JUnkies. One huge day of Sneakers, Bikes, Streetwear and Records!!!
This looks like it will be an awesome day for all, so make sure yall come down and support!!!
Do you want to get involved?
If so, I believe Hans is still looking for stall holders, so if anyone is interested to try and sell some stuff on the day, please get in contact with Sneaker Freaker asap. Those who own businesses are also welcome no matter how big or small!!!
Stalls are $40 each, but you can join with as many people to book one.
Info...
- 3 x 3 metre stall with Tables, chairs, power, exhibiting boxes etc. $40 per stall
- Cafe open all day, hot food, coffee etc.
- alcohol license provided on the day
- Trading hours 11am till 5pm
- Setup between 9am and 10.30am bump out 5pm and 7pm