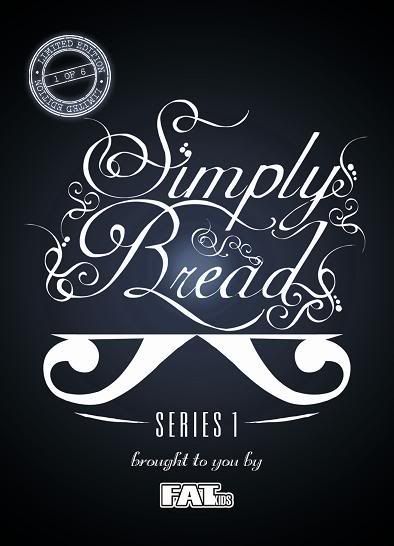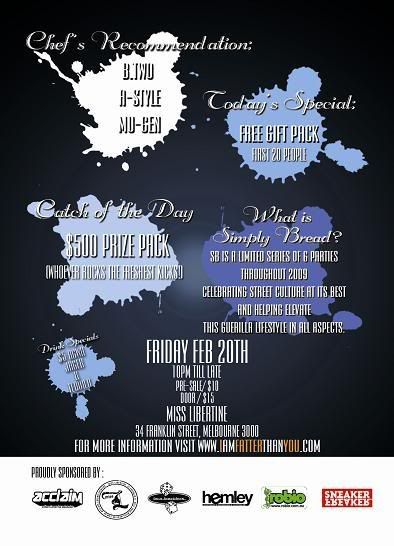 Guerrilla tactics are based on ambush and sabotage, and their ultimate objective is usually to destabilize an authority through long, low-intensity confrontation. It can be very successful against an unpopular foreign regime.
Simply Bread is a 12 month project that captures the essence of street culture, moulding music, toys, art, design and fashion in a cool/fresh atmosphere. Our aim is
to help celebrate the guerrilla lifestyle we love and ultimately become the hub of inspiration and assistance for all brands, creators, toys, and collectors.
Simply Bread will run events every 2 months (6 events in a 12 month period). The concept is to run Simply Bread similar to a collector series, each event will be
labelled 1/6, 2/6, 3/6 etc. Simply Bread will bridge a connection with the trend setting market and Street/Fashion brands.
The DJ's driving this years paper chase are Melbourne's own B.Two (2008 DMC champ), DJ A-Style (2007 DMC Champ) and Mu-gen.
A big shout to all our sponsors Acclaim Magazine, Sneakerfreaker, Robio, Loco Lowriders and Hemley Skateboards for all the support!
Purchase your pre-sale tickets now!